First time buyers go straight for the mid-market
First-time home buyers are entering the residential property market in the highest numbers in the R700k to R1,5m valuation bands as opposed to less expensive valuation bands.
Lightstone's Head of Sales, Hayley Ivins Downs says there are many reasons behind this trend, including:
The correction in house prices, which has created opportunities for first-time buyers to be more ambitious
Younger people are saving for longer before committing to home ownership
Parents are supporting their offspring, helping them to buy-up
Formative salary levels are growing quicker than inflation
Many buyers are opting away from RDP developments in or near townships because they want to be closer to work and travel less.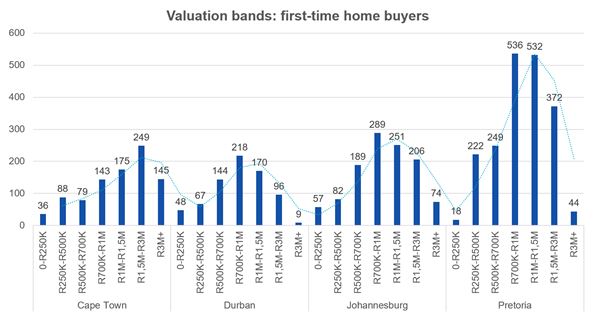 In the city-by-city graph above, the highest number of first-time buyers in Cape Town was in the R1.5m to R3m band, while in Durban, Johannesburg and Pretoria it was in the R700k-R1m band.
While the data reinforces the historical relative premium on property in Cape Town, it clearly demonstrates how Pretoria outscored the other major centres when it comes to numbers of first-time buyers – and by some distance.
In the graph below, the concentration of first-time purchases in the R700k-R1m and the R1m-R1.5m segments is clearly evident.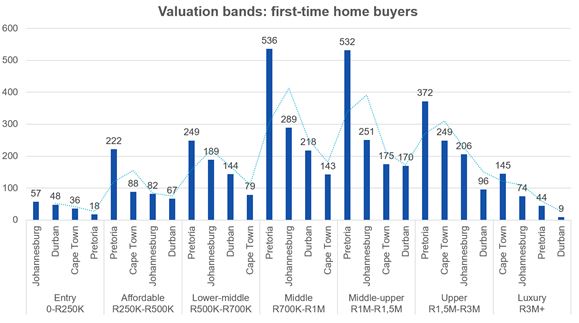 In terms of wealth segments, most first-time buyers are coming from the "Mid value" and "Mid upper" categories.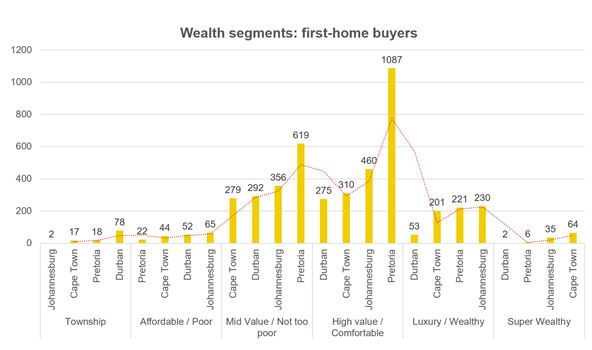 As would be expected, most first-time home buyers fall into the younger age categories, and then most repeat buyers fall into the older categories.
Most first-time buyers are between 21-25, followed by those under 20 – perhaps surprising that many purchasers are that young. Then the numbers drop from 26-30 and 31-35, and it's in the 36-40 age group that repeat buyers overtake first-time buyers.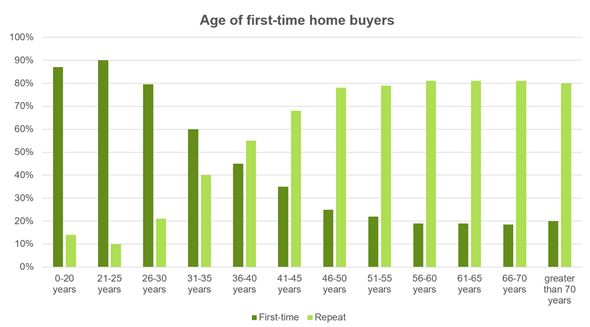 Even though their numbers do not differ much from year to year the trend evident in the graph below, for the years 2014-2018, suggests there is a delay in acquiring property as shown by the gradual decrease from 31% to 26% in the "26-30 years" band, most of which goes into the "31-35 years" band in the 5-year period.
Data from many societies indicates both Millennials and Gen-Zs are delaying marriage, having children or buying homes, opting rather to travel more, experience life more broadly and build their careers. "Settling down" is becoming something people do once all other aspects of life are in place, and not the platform to put those aspects in place.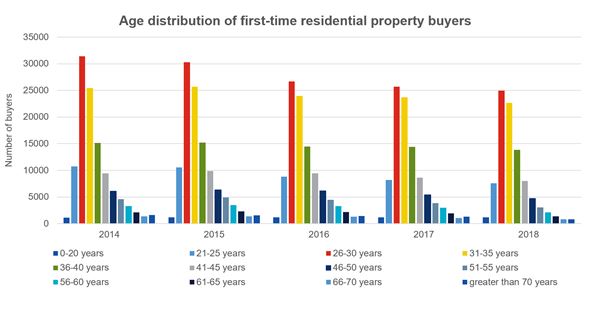 Women (graph below) make up the majority of first-time homeowners while men make up most of the repeat buyers.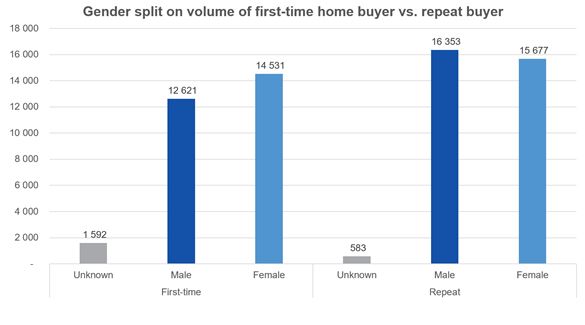 Bathrooms and bedrooms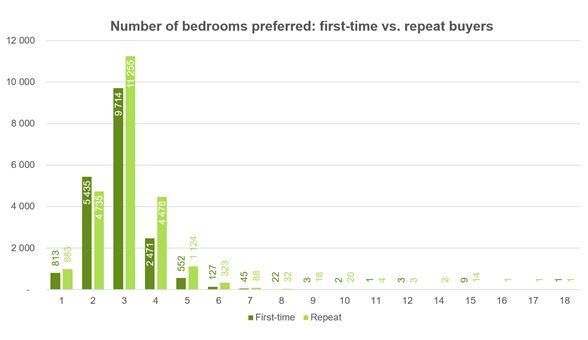 Both first-time and repeat buyers mostly want three bedrooms and two bathrooms.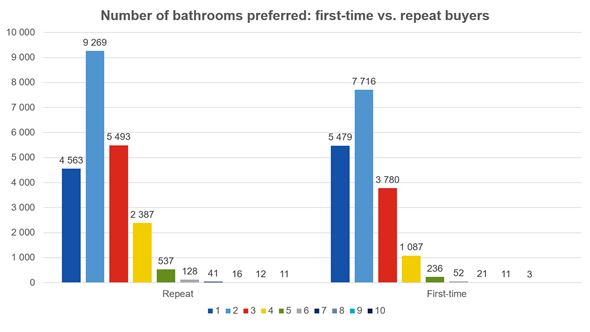 Top 10 suburbs in major cities - and what they tell us about first-time buyers
Langa leads the way … and 75% of first-time buyers in Sandton and Midrand are black
Langa (112 purchases) and Belhar (91 purchases, situated in the Cape Flats) lead the way for first time home buyers in Cape Town in 2020 – suggesting black buyers are increasingly moving into property ownership.
Other suburbs in the top ten included Plumstead, Observatory, Sea Point, Wynberg, Rondebosch and Claremont, all located in the southern suburbs, with Sea Point on the Atlantic seaboard and Ottery on the edge of the southern suburbs making up the balance.
In 2010, Belhar led the first-time buyers table, along with seven other suburbs appearing in both lists. The only newcomers in 2020 were Langa and Ottery, with Delft and Strandfontein Village dropping out.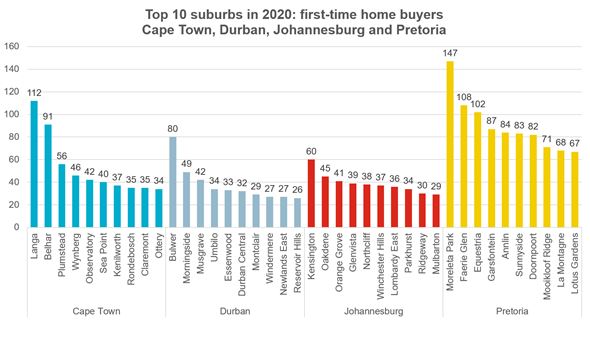 In Johannesburg, Kensington (60 purchases) directly east of the city centre was the first choice in 2020, up from fifth in 2010. Oakdene (one of five suburbs located south of the city) and Orange Grove (one of four in the northern suburbs) were next.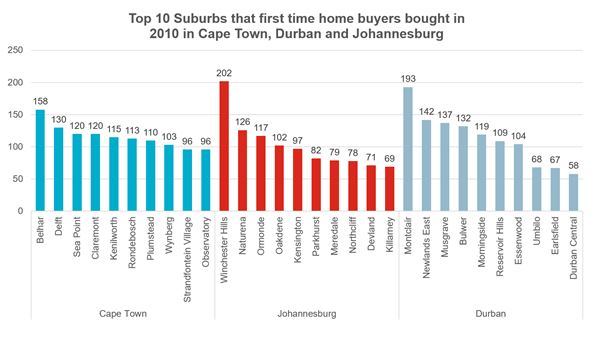 First time buyers have consistently been drawn to the same suburbs in Durban, with nine appearing in both the 2010 and 2020 top ten lists. Bulwer (80 purchases), located adjacent next to the Durban CBD, was the leading choice in the period January to September 2020.
Other suburbs to feature in both periods include Morningside, Reservoir Hills, Musgrave, Durban Central, Essenwood, Montclair, Newlands East and Umbilo. The new entrant in 2020 was Windermere, which replaced Earlsfield.
In Pretoria, Moreleta Park (147 purchases) is comfortably ahead of the other leading city-based suburbs. Moreleta Park is among the popular suburbs south and east of the Pretoria CBD, which include fellow top ten choices, Faerie Glen and Equestria.
The increased sales in Pretoria could reflect people moving into the city from surrounding rural areas as security concerns mount, changing university lodging rules, many new flats and residential developments are coming on stream, and state schools are plentiful and less expensive than many in Johannesburg. The areas where people are moving to are centrally located, with hospitals, malls and road networks within easy reach.
The impact of Covid-19 and the lockdowns are perhaps evident in the tables below, subject to the backlog being cleared at the Deeds Office. They show total first-time purchases dropping to 2,195 in 2020 from 4,992 in 2010 – a drop of some 55%.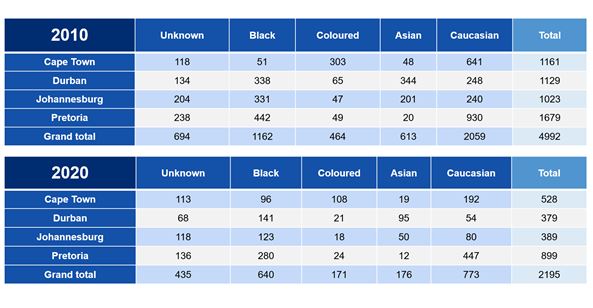 Sandton and Midrand
Some 75% of buyers (where race is recorded) in 2020 in Sandton and Midrand are black, compared to 55% in 2010 (where race is recorded), again underscoring the demographic shift taking place in the residential market.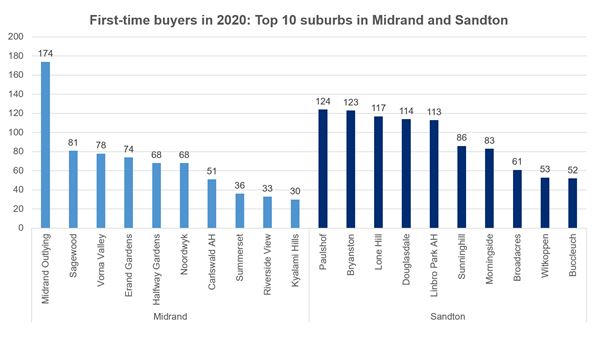 In Sandton, sales to first-time buyers are evenly spread across the leading five suburbs, Paulshof, Bryanston, Lonehill, Douglasdale and Linbro Park, all of which bar Linbro Park were in the top ten in 2010. The only other new entrant in 2020 is Broadacres, while Edenburg and Beverley dropped out.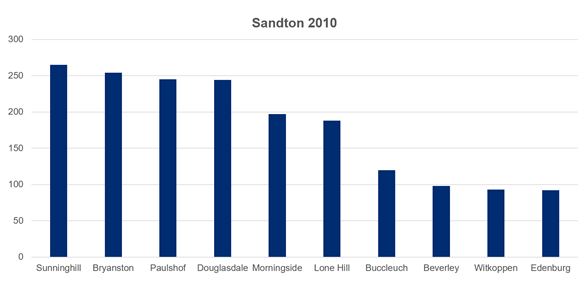 In Midrand, 2020, sales to first-time buyers in Midrand Outlying is significantly higher at 25% of the total than other suburbs.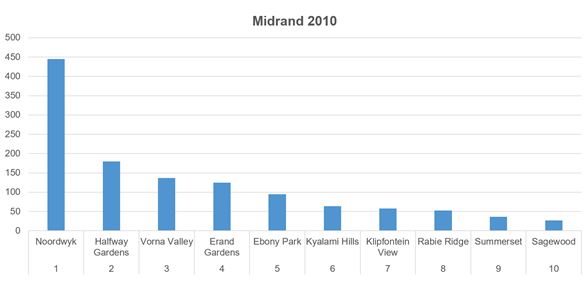 As with purchases in the four main cities, the effect of Covid-19 and the lockdown is still being reviewed as the year closes out and at this stage we show total sales of homes as the tables below indicate: in 2020 a total of 1,619 homes were purchased, just 53% of the 3,016 purchased in 2010. We will be able to assess full Covid impact by early March 2021.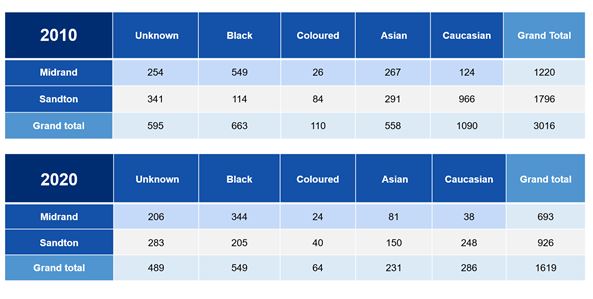 Orange farm leads the way outside cities
Gauteng dominates first-time purchases
Moving outside the four cities, the growing trend towards home ownership in previously disadvantaged areas becomes more pronounced.
Drieziek, in Orange Farm, one of the youngest townships in Gauteng some 45km south of Johannesburg, leads the way with first time buyers with 345 purchases, more than double Moreleta Park's total. Second is Electric City in Eersterivier, south of Bluedowns and east of Khayalitsha, with 177 purchases.
Fourteen of the top 20 suburbs outside the major cities are in Gauteng, and are in Midrand, Centurion, Pretoria, Sandton, Kempton Park, Roodepoort and Randburg. The Western Cape is next with four suburbs, with one each from the Free State and Eastern Cape.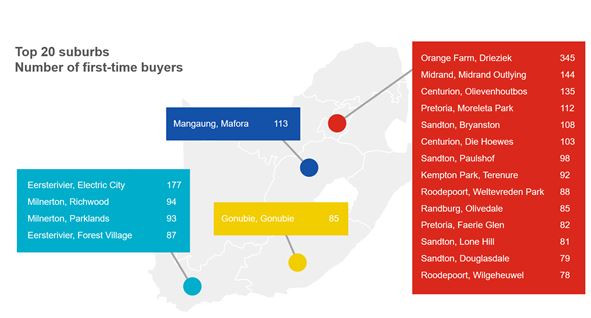 This article, courtesy of...